February 25, 2022 – On January 26, 2022, Justice Stephen Gerald Breyer notified the White House that he would retire at the end of the 2021-2022 term. One month later, on February 25, 2022, President Joseph Robinette Biden Jr. nominated Ketanji Brown Jackson to the Supreme Court, beginning a historic confirmation process for the first Black woman to sit on the highest court in the nation in its 223-year history.
Judge Jackson, who clerked for Justice Breyer, has worked as a public defender, a corporate attorney, a U.S. District Court judge, is currently sitting on the U.S. Court of Appeals for the District of Columbia. "If I'm fortunate enough to be confirmed as the next associate justice of the Supreme Court of the United States," Judge Jackson commented in her prepared remarks about her nomination, "I can only hope that my life and career, my love of this country and the Constitution and my commitment to upholding the rule of law and the sacred principles upon which this great nation was founded, will inspire future generations of Americans."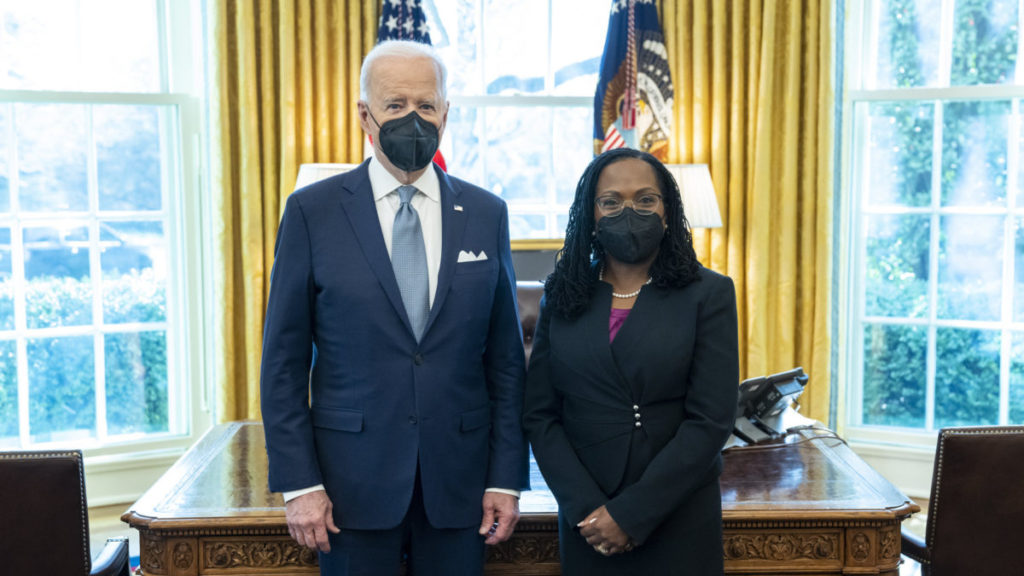 If confirmed, Justice Jackson won't alter the Supreme Court's ideological far-right conservative tilt because the overall makeup of the court will continue to include six conservatives and three liberals. Unfortunately, despite winning the popular vote in 7 of the last 8 elections, the Republicans have rigged the system to achieve a radical conservative majority. Indeed, when Justice Antonin Gregory Scalia died in February of an election year (2016), President Barack Hussein Obama's nomination of Merrick Garland would have, if confirmed by the Senate, flipped the then five-to-four conservative court to a five-to-four liberal one. But Senator Mitch McConnel and his Republican caucus refused to hold a hearing on Garland's nomination on the theory that court vacancies that arise during presidential election years should remain unfilled until the next president takes office. Then, when Justice Ruth Bader Ginsburg died in an election year (September 2020, less than two months before the presidential election), Senator Mitch McConnel and his Republican cronies hypocritically changed the rules and confirmed President Donald John Trump's nomination of Amy Coney Barrett with lightning speed. "And just like that," as Carrie Bradshaw would say, what should have been a 6 – 3 liberal court majority became the most radical right-wing conservative court since the Lochner era of 1897 to 1937.